The Celebreality Interview - Schatar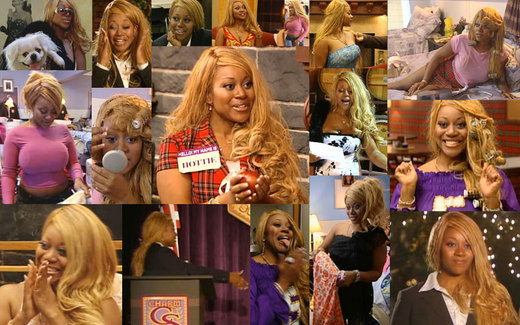 There is no sweeter sound than that of Schatar "Hottie"/"Money Banks" Taylor answering her phone: "Good evening, this is Schatar." That's how our interview with the Charm School cast-off kicked off and for the next 30 minutes, the most eccentric character in the Flavor of Love universe (and that's saying a lot!) gamely answered all of our questions with her near-eerie perfect diction and even eerier politeness.
In what is, in our opinion, our wackiest and most fun Celebreality Interview yet, Schatar talks us about being treated roughly by the other girls, her weave that's guaranteed to last up to five years, her bout with childhood blindness, her dog that's part cat, how she's the "new image of the perfect woman" and much, much more. Get out your bicycle bells and join us after the jump...
How would you characterize your time on Charm School?
A blast with a capital B! I had a great time.
Were you disappointed when you were eliminated?
I wasn't there to do anything other than win. Winning was my goal. It wasn't about the money, it was about the winning. I love winning!
But you also love money, too, no?
Well, I grew up with some amount of affluence and then some times I felt like I had nothing. I've lived the best of both worlds and I feel like money comes and goes. Money isn't everything.
I just assumed that you were into money because your nickname is "Money Banks."
Yes it is. Money Banks has been my nickname since I was 12. When I was 12, I would sell Girl Scout cookies at the hospital where my mom worked. Some of the physicians would say, "Can I pay later?" And I would tell them, "No, I need you to pay right now," because otherwise the money would come out of my mom's purse. So they started calling me Money Banks around the hospital.
You gained a reputation as a thief on the show, and that led to your booting. What do you think of that?
There is a difference between stealing and hiding. I said that I would hide clothes to win the competition, but stealing is totally not my style. While I was in the house, I had no idea who stole Leilene's picture. I had no idea who would want to focus their energy on me that much to get me out of the house. I always say that I must be doing something right if the girls are willing to take energy from themselves and focus it on me. I take that part as a compliment.
You took a quite a beating throughout your entire run on the show.
I totally was a victim. Trying to defend myself against the mean girls was a daily struggle.
Was this new to you? Have you faced such a hostile environment before?
Most places I go, I love people and they love me back. It's generally a positive, win-win situation. I've never been faced with the situation of Charm School. I expected, when I first signed on for Flavor of Love, that meeting all the girls would be like going to the Girl Scouts, that everyone would be friendly and happy. And you saw what I encountered when I arrived. It was a total shock, but I never wanted to quit. I focused on winning. That was my goal for both shows.
Did you let it get you down?
Why would I let it get me down? It's not personal for me. It's business. People can say whatever they want about me as long as they spell my name right on the check.
I read an interview with you in which you basically said that it doesn't matter if people are laughing at or with you, just as long as they're laughing.
That is true. This is the entertainment industry. I understand that people watching want to be entertained. They don't want to see the average person, they want you to be an extreme version of yourself. And I make sure to give it to 'em every time.
I mean this as nothing but praise, but you do come off as strange. I've never seen anyone behave the way that you do. It's pretty amazing.
I'll say thank you to that. I always say, you do you. I can't be anybody else. I don't try to blend into the crowd or follow trends. I definitely am a trendsetter. For example, when I am in a shoe shop shopping for shoes, I may pick up a specific pair that's unique but stylish. After I try them on, I'll notice that the other women shopping will ask the sales girl to see that same shoe. I start trends without even trying.
In addition to the girls, the show itself pokes fun at you, like the bicycle ching that sounds every time you blink.
I love it! The editors are having so much fun putting audio effects on the blinking. I think that's so creative. I have a great time watching the show – I laugh, too.
It's awesome that you can laugh at yourself.
You have to! There's so much serious stuff going on in life that everybody needs to laugh.
Your blinking does seem fairly pronounced. Is it a coincidence that the editors picked up on it?
I can confess that I overcame childhood blindness. When I went into the doctor's office, they covered one of my eyes and I just started screaming because my vision was going. Through a series of very strenuous eye exercises and wearing very thick, thick Coke-bottle eyeglasses with an eye patch, I was able to overcome blindness. I say if I can do it, with any amount of determination, people can overcome whatever they have to and reach their own goals.
Your hair is a major plot point, as well. Do you still have that weave in?
I do still have my extensions. My hair as a child was a long, thick, reddish blonde, so this hair is not that much of a stretch for me.
In one of the VSPOT extras, you say that you could keep your hair in for five years.
The quality of the hair is very high and it is guaranteed for five years.
But you'd have to get that redone or something to keep it in that long, right?
Oh yes. Maintenance, of course. That's part of an elegant woman's style.
And it's literally woven in? It's not a wig? Or is it?
It is extensions. You can purchase them buy the pound or buy the length and mine is over three-feet long.
Do you think you'll change it? It's sort of your signature at this point.
As an actress, it is important to change my style. I am an entertainer, I'm an actress and a vocalist, and I will gladly switch it up for the role.
Can you talk about the origin of your name?
Schatar is combined with my middle name, which is Sapphira. Taylor is my last name. My name means many different things in different languages. Schatar means "beautiful." Sapphira is a Hebrew name and it's one of the names of God. In Egyptian, Sapphira means "ambassador." So combined with my first name, my name means "beautiful ambassador of the stars."
I read another interview with you, in which you were asked about your age and you said, "My stage age is 23."
That is correct.
But isn't it strange to admit that you have a stage age in the first place? Isn't the whole point of having a stage age that you keep it secret?
A stage age reflects many of the roles you can play. In one of my recent shows, I played a child who was 12. That was a Judith Viorst piece called Alexander and the Terrible, Horrible, No Good, Very Bad Day. It was a national tour. But I'd be willing to put powder in my hair and play the roles Cicely Tyson has played. I'm versatile!
What's up with the music career?
I have a brand new single out and it's called "It's Money Banks" [produced by Eric "Man Man" Lyons]. If you go to my MySpace page, you will begin to see promotional material about the song and where to buy it. It is so hot.
Are you working on an album?
Right now, I'm releasing singles. My first one was a Flavor of Love spoof called "My Man, My Mansion, My Money." I'm recording with one of the original members of Earth, Wind & Fire. It's totally awesome.
Is the full video for "My Man…" on the way?
I will say that the video clip is available on YouTube, as you've seen.
Will there be a full length video?
I have to say stay tuned.
In your online resume, there is a picture of you posing in a basket with plants. What was the thought process behind that shot?
Oh, I just wanted to do something creative and different. And my little dog Cash is in the picture, too…
I love Cash. What kind of dog is he?
He's special genetic breed. He's a combination of Piekenese and Persian, so he has many habits of a cat, but he's a papered Pekingese puppy.
So, wait. He's a dog, but he has cat in him?
Yes. He's a special genetic breed.
How do you get one of those?
It's like the new thing now where you can have them bred for certain characteristics and size. He's everything. He's very intelligent and he eats a primarily vegetarian diet.
OK. But he's a dog? Or is he a cat-dog?
He's a dog. He's a papered Pekingese.
I also read that you have a five-octave voice.
Yes. I weaned my voice on records that my mom has by Minnie Ripperton. I was just hitting the high notes and that's how I weaned my voice. I hear that those notes make people's bones vibrate when I hit them, but I'm just doing my passion, and that's entertaining and making music.
Can you sum up your lifestyle for me?
It goes back to focusing on time. I make sure to not focus on the past or the future, but to live in the moment and make sure I am maximizing every single moment of every single day and living it to the fullest. I'm making my difference and having a great time.
Where do you see yourself in 10 years?
In 10 years, my stage age will be 23 (laughs). I'll be doing more movies, producing many of my own television series. I definitely intend to be starring in my own series in the near future and more starring movie rolls. Touring internationally. [I see myself as] an international star like Madonna or Michael Jackson or Gwen Stefani. An icon.
And besides that, what's next for you? Are you dating anyone?
People always ask that, especially after Flavor of Love. My answer for them is I love love. I am told that I am the new image of the perfect woman and one day I'll be with the image of the perfect man.
Keep up with Schatar via her MySpace and her homepage, Schatar.com.

TrackBack
TrackBack URL for this entry:
http://www.typepad.com/services/trackback/6a00d834515b6369e200e5508d1d718834
Listed below are links to weblogs that reference The Celebreality Interview - Schatar:
The comments to this entry are closed.