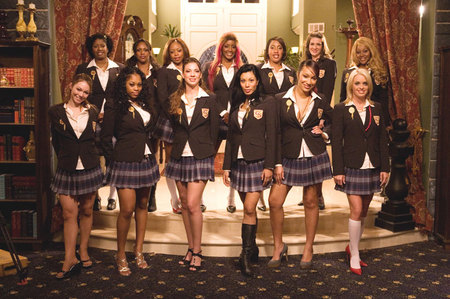 It's time for the girls of Flavor of Love to clean up their acts. A new FoL spin-off Flavor of Love Girls: Charm School starring Mo'Nique is set to debut April 15, at 10 PM. Comedian-actress Mo'Nique will whip the notoriously finger-waving, weave-swinging, expletive-spewing, booty-shaking, attitude-having reality show vets into shape as headmistress of a school for etiquette on the Celebreality series. Per the press release:
Upon meeting them, Mo'Nique lets them know that their Flavor of Love stardom has also turned them into walking punchlines. "America wasn't laughing with you," she tells them, "they were laughing at you." Under Mo's tutelage, the Flavor of Love cast-offs will be trained in proper etiquette and have their social skills challenged to test their self-confidence, composure and grace. The one left standing will receive a $50,000 prize.
The Charm School contestants, as pictured above are: (Top row, L-R) Like Dat (Flavor of Love 2), Rain (Flavor of Love 1), Buckeey (FoL 2), Saaphyri (FoL 2), Goldie (FoL 1), Buckwild (FoL 2), Hottie (FoL 1); (Bottom row, L-R) Toasteee (FoL 2), Bootz (FoL 2), Krazy (FoL 2), Smiley (FoL 1), Serious (FoL 1) and Pumkin (FoL 1).
If the photo is any indication, this show will be amazing. It's like The Facts of Life on Alize!
After the jump are two exclusive VSPOT video previews of the show:

Every week leading up to the premiere of Charm School, VSPOT will post at least one new segment following the girls at home, in their natural habitats. In the first two below, catch up with Flavor of Love 2's Krazy (best known for her beautiful music), Buckeey (best known for her hotness), Saaphyri (best known for her lip chap) and Buckwild (best known for her accent). Read bios here.
TrackBack
TrackBack URL for this entry:
https://www.typepad.com/services/trackback/6a00d834515b6369e200e5508d0fa08834
Listed below are links to weblogs that reference First Look: Charm School:
The comments to this entry are closed.